THE YELLOWSTONE HIDEAWAY
YELLOWSTONE CABINS – WYOMING CABINS AT IT'S BEST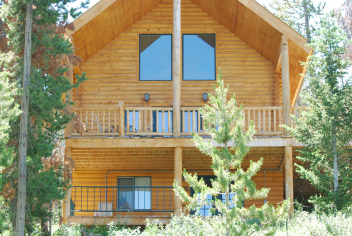 Looking for that perfect log cabin for your next vacation, then you have found it. Are you looking for an alternative to traditional Yellowstone cabins or lodging then check out our cabin. Our log cabin is located on Union Pass just out of Dubois, Wyoming. With thousands of acres and hundreds of miles of trails to explore, make sure you bring your camera and binoculars because you never know what mother nature has in store. Unlike some Yellowstone cabins, our cabin is easily accessible on a government maintained road and just a short drive to the south entrance of Yellowstone National Park, Grand Teton National Park, and Jackson Hole Wyoming. A three mile drive up the Wyoming mountain brings you to our secluded estate in the most spectacular mountain paradise with out of this world views of snow covered mountains. This Yellowstone mountain cabin gives you one of the best Yellowstone cabins available within a short drive to the south entrance of Yellowstone National Park and Grand Teton National Park. Perfect for Yellowstone vacations.
Can you imagine looking out your window or sitting on one of three decks looking across two snowcovered mountain peaks at the most breathe taking scenery you have ever put your eyes on. When you close your eyes all you hear is the wind blowing, no traffic, just the mountain wind. Pictures  and words cannot do it justice. That is what you can look forward to! Hardwood floors, log beds, 2 fireplaces, 3 decks, a pool table, and rustic decor are all amenities you get at The Yellowstone Hideaway. Click here for more pictures.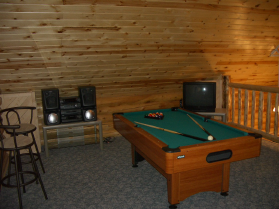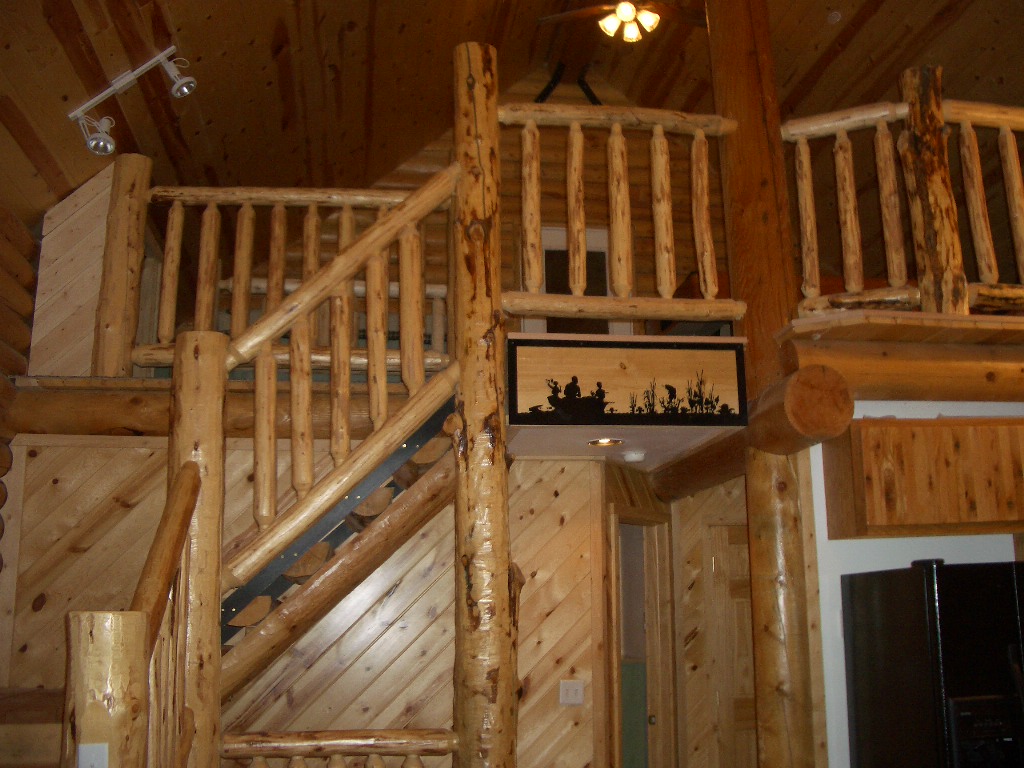 This is an individual mountain cabin with over 1800 heated square feet, located on over 3 acres of secluded private mountain land. Don't just stay at a camp ground or a hotel where you have no privacy! Unlike other Yellowstone cabins, our Yellowstone lodging is secluded and private. The Yellowstone mountain cabin is just right for honeymooners, families, or groups and for winter or summer Yellowstone vacations.
Our lodging features include fully furnished kitchen, towels and linens, fullsize refrigerator/freezer, microwave, coffee maker, 52 inch TV, DVD/VCR players, pool table, barbeque pit, pots/pans, and much more.
Located just outside of Dubois gives you a verity of choices for dining. There are a number of restaurants located in town and a couple of really nice restaurants that I prefer just a couple minutes drive just up the mountain from the cabin. Or if you are interested in shopping there are a number of rustic quaint shops located in Dubois or make a short drive to Jackson Hole giving another good reason to make this your Yellowstone lodging for your Yellowstone vacations.
This cabin is located within a couple of miles of national forest accessible by Car, Horseback, or ATV. That's right, you can leave the cabin on an ATV and within minutes be exploring hundreds of miles of trails and numerous area lakes. Go hiking, hunting, fishing, bird and game watching, picnicking, or just sit on the deck and enjoy out of this world views while reading a book. We can help you with ATV Rentals and can help you in reservations for white water rafting and horseback riding. Come visit nature at it's best and enjoy true mountain living.
This cabin is not located in Yellowstone but it is close enough for day trips.
This cabin is my family's personal vacation home. We love being there and we know you will too! Click here for rates.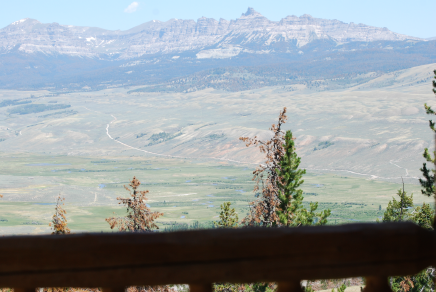 Call The Yellowstone Hideaway – Mark or Heidi McMickens
Toll free 1-877-834-3571 or email us at